The Ideal Cloud Network: SDN Overlays, Underlays or Both?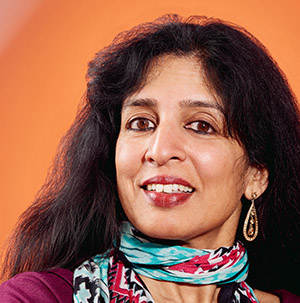 Enterprises are still a complex mix of legacy and newer cloud applications, yet smart use of universal SDN-based cloud networks is the great equalizer in bringing enterprises and the new applications of the cloud together. Evolutionary migration strategies from a mainframe to a client-server architecture can also be applied to the next phase of cloud and virtual age networking. To appreciate how they apply, one must better understand the diverse definitions of SDN, and its true applicability in next generation networks. Let's review some of the terminology often used and confused in our industry.
Overlay SDN: The most visibly promoted controller for SDN overlays today is VMware's NSX (Microsoft System Center, Juniper Contrail and Nuage Networks may also fall into this category). Some networking features and functions are moved into overlays to control the data, flow or forwarding path. This includes:
1. Software overlays to shift management functions from the control plane of the network to servers
2. Specific use-cases such as server virtualization, L4-L7 load balancing, security, Openflow etc.
Functional controllers leverage existing physical networks and apply features and functions such as provisioning that can be used via abstraction, APIs, a CLI and limited scripting.
Underlay SDN: Controllers do not pretend to solve the broader set of complex and gnarly high performance networking issues that exist at L2/L3/L4. To achieve that we need an uncompromised wire-speed SDN data plane as the physical "underlay" network. This can integrate with a wide range of network elements such as Wi-Fi, virtual and physical networks based on VXLAN as well as technologies and assorted open APIs. These examples of SDN underlays make it possible for many vendors (including the Arista 7000 family) to be controller agnostic and interoperable. One must avoid proprietary traps of vendor-specific technologies (such as Cisco ACI, FabricPath, OTV, Juniper QFabric, etc.), and embrace standards-based networking.
Best of Both Underlays and Overlays: Software Driven Networking!
The ideal cloud network is one that can approach new and hybrid use cases bringing IP+SDN for Software Driven Networking systems. This enables a fundamental shift in network architecture from the legacy dinosaur polling and reacting model to a modern proactive model with many rich programmable capabilities for lowering OPEX costs. Arista's software architecture is a fitting example of the best of both worlds. Treating the entire network as a universal software-defined cloud network, EOS (Extensible Operating System) is bringing the best of overlay controllers and eAPIs coupled with uncompromised network-programmable underlays using open standards and IP networking. The network is programmable at every level, be it control plane, management plane or data plane, with granularity of applications, flows and L2/3/4 addresses. One can use OpenStack, VXLAN or L2/L3 semantics to build the network stack while being interoperable with the existing network infrastructure. Arista endorses a broad spectrum of data, management and control plane capabilities to bring flexibility for our customers. This includes programming the network with high-level programming languages, structured and machine-readable APIs, and standards-based protocols as well as shown in the Hybrid Model in figure below together with bringing your own controller (BYOC).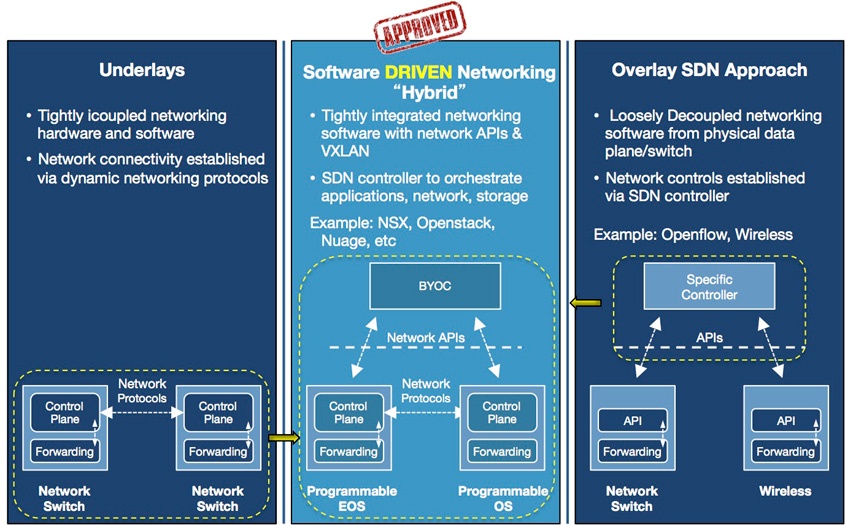 Figure: SDN Approaches
Cloudify Your Enterprise with Unified Over/Underlays:
The migration to private, public or hybrid clouds is revolutionary in technology but evolutionary in adoption, with the Arista 7000 family and Arista EOS as underlay and overlay combinations.
Key guidelines for successful hybrid IP+SDN greenfield and brownfield deployments are:
1: Identify Modern Applications. Many enterprises use NetSuite for ERP or Workday for Human Resource Management, as well as a broad range of cloud applications such as Google, Salesforce.com etc. Arista is a fitting example of deploying cloud apps internally.
2: Implement Open Networking: This is where open APIs and Ethernet/L2/L3 standards come in. Nobody wants costly closed proprietary architectures unless you are a "one stop shop" that is risk-averse or fear-based. And those shops will increasingly face shadow IT initiatives aimed at improving IT economics and agility. Avoid vendor lock-in and start with one project and use-case, then expand. OpenStack and Data Analytics are popular use-case projects.
3: Avoid the Marketing Hype: A good CIO is responsive to their customers, but avoids buzz-words and proprietary technologies. Having a sound, interoperable standards-based API layer for applications and a flexible, open, programmable network is the goal.
It is an exciting time in modern networking with cloud economics possible in mainstream enterprises. I wish my Arista readers and well-wishers a happy spring 2014 as we continue to demystify the buzz words, distinguish marketing from real products and realize true use-cases in Software Driven Cloud Networking. As always, I welcome your comments at feedback@arista.com.
References