Software Defined Cloud Networking Options: Overlays or Open Protocols?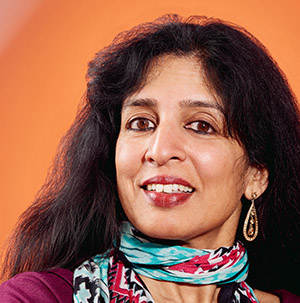 The recent rhetoric on SDN (Software Defined Networking) promotes overlay network controllers as an approach to the problem of scaling large networks. For decades however, we have all built good and familiar L2 and L3 networks and have been scaling the Internet to solve complex problems. Particularly in the data center the "scale-out" approach has been adopted for 50-100K servers to enable massive scale for the evolving east–west data center traffic pattern that was previously difficult to achieve with legacy enterprise switch architectures.

Has the advent of cloud really changed the paradigm? Is it different than classical enterprises? What is clear to Arista and to me is that customers are really grappling with next generation cloud/ datacenter architectures and migrating from legacy enterprise approaches. Vendors are touting two contrasting approaches, as has been the case over time in the industry – proprietary and open.
Overlay Proprietary Approach for Niche Applications:
Vendor-specific approaches such as Cisco's OTV, FabricPath or LISP and Juniper's QFabric all seem to suggest that proprietary tags or overlay mechanisms are needed to enable cloud-scale. Why are these approaches needed? Are they a good abstraction? Do they overcome limitations to building scalable IP networks?

In my decades in the networking industry, overlay network mechanisms have always been transient. They have been floating islands for niche applications and they eventually migrate to mainstream IP and Ethernet. They also create vendor-specific lock-ins. Recall ATM LAN Emulation in the 1990s? How about Fiber-Channel-over-Ethernet (FCoE) in 2010? These are examples of overlay network approaches that may solve specific use-cases at a point in time. The market appeal is ultimately niche and negligible, however. Even early definitions of OpenFlow 1.0 are better suited for research projects. Eventually the networking protocols subsume these emulated tags with well-behaved standards; ie, Ethernet and IP protocols.
Open Protocols for Scalable Cloud Networks:
There is a constant need for the network to scale behavior and the number of nodes that communicate with each other. It may be simple ones such as, "I need another VLAN," or, " I need another 200 Virtual Machines or another TB of storage," or more detailed network element provisioning. Layer 2 and Layer 3 protocols have been scaling for decades to achieve this. Each network exchanges state information with its neighbors to distribute information for packet forwarding (STP, OSPF, BGP, etc.)

I am personally very enthusiastic about the promise of the Virtual eXtensible LAN (VXLAN) standard co-authored by industry stalwarts VMware, Arista and others, along with NVGRE, co-authored by Microsoft, Arista, etc. These standards permit scalability at levels well beyond the limitations imposed on today's Virtual Machine (VM) workloads to virtually unlimited millions of L2/L3 nodes! They do this by defining tunneling protocols that expand the true limits of network virtualization without proprietary overlays.
Almost Unlimited Scale with VXLAN:
The emergence of VXLAN and NVGRE, IPv6 and a variety of multipathing mechanisms working with well-defined L2/L3 protocols enables hundreds of thousands of physical nodes supporting millions of Layer 2 domains. These networks are no longer constrained by MAC address table limits, yet they preserve the familiar TCP/IP control plane and protocols making for a compelling industry event!
Arista's Extensible Operating System (EOS)
Standard APIs to Open Virtual Switch (OVS), OpenFlow clients, OpenStack, as well as access to your favorite management console via XMPP can all be supported for open management access as shown in the diagram below. Arista's EOS, product of the extensive development and software expertise of a hundred thousand man-years of engineering, has been purpose-built from the ground up for cloud and data center environments. Arista's EOS is rich in protocol support and addresses the need for standards-based scalability in today's network deployments.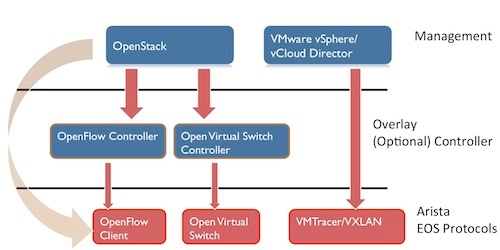 Summary
Just as centralized mainframes evolved to distributed client-server architectures in the 1990s, enterprise networks must now reconcile with the new world of open virtualized scalable cloud networking. Overlay networks may satisfy transient niche applications, but ultimately open protocols are necessary to build massive scale and achieve real world software-defined cloud networking.
Welcome to the new world of cloud networking. As always, I welcome your comments at feedback@arista.com
References