Redefining Low Latency Switching - Once Again!

Over a decade ago, we entered the high speed switching market with our low latency switches. Our fastest switch then, the 7124, could forward L2/L3 traffic in 500ns, a big improvement over store and forward switches that had 10x higher latency. Combined with Arista EOS®, our products were well received by financial trading and HPC customers.
Arista has always pioneered innovation where the Arista 7150 could meet the needs of customers with unique features such as Latency Analyzer (LANZ), NAT, Accurate Timestamping and more. However, financial trading today needs unique and discrete solutions to address the absolute lowest latency and determinism. In order to address this, we acquired Metamako in 2018, based in Sydney Australia, and introduced the Arista 7130 series with Layer 1 (L1) switching. This switching is pure replication at an electrical level at trailblazing speeds of 5ns. However, we don't get to modify the packet data, we simply replicate and don't even have the time to check the CRC.
Arista's low latency journey
There are many design tradeoffs you can make when building switching platforms such as features, latency, bandwidth, packet memory and power efficiency. The standard switching chips weren't going to meet the pressing demands of both features and low latency. So, our team set out on a mission to build a programmable pipeline in FPGAs that allows our customers to choose their optimal outcome. By using the most cutting-edge FPGAs with a highly optimized forwarding pipeline design, the Arista 7130 now offers L2 forwarding at less than 100 nanoseconds. If you need more features or bandwidth, you can customize your profile with only a slight uptick in latency! The Arista 7130 also offers highly accurate time stamping of under 400 ps (yes, picoseconds)! This precision allows stock exchanges and trading firms to measure latency and maintain fairness in the market. Measuring accuracy of time stamping to that level of precision itself is an engineering feat.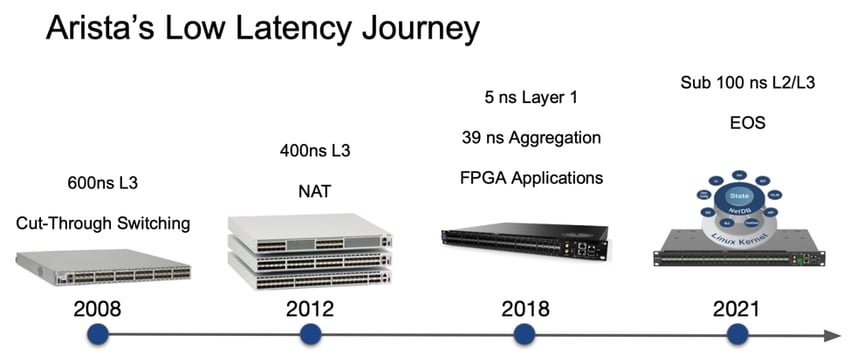 Figure 1: Arista Low Latency Journey
As shown in Figure 1, The Arista 7130 series now runs EOS – a feature rich foundation for the future – and can also be managed in a highly automated manner with Arista CloudVision and SwitchApp with sub-100ns latency. We are proud of the continued innovation Arista has championed in the financial trading markets. While many companies have shifted away from financial trading in favor of other markets, we have cherished working with our earliest customers and addressing their needs.