Next Gen EOS for Cloud-Scale Networking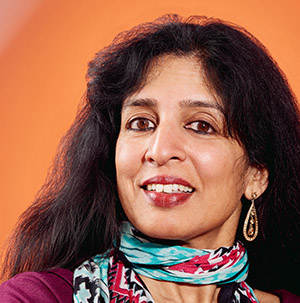 As we celebrate 2016, and reflect upon Arista's decade of innovation, the disparity between legacy technology and modern technology is clear, and the gap is widening. Arista is unique in its role as a pioneer in cloud networking. Let us review.
Arista EOS: The Best fit for Cloud Design
It is clear that cloud data centers typically scale their full mesh topology of leaf-spine switches with n-way uniformity to set up the network in a regular symmetric manner. At least four factors are driving the rise of these cloud topologies: economics, dense workload mobility, converged infrastructures (storage especially) and new cloud applications like big data analytics. By decoupling physical compute or storage from cloud applications, one can automate and provision the entire network to handle any workload, workflow or workstream, with real time agility.
Meanwhile, legacy vendors have not changed enterprise network operating systems for two to three decades. No wonder they don't meet today's cloud networking needs. Legacy technology is old, decrepit and monolithic. To make matters worse, the demand for new cloud features, when placed on top of ancient foundations, increasingly compromises software quality.
The Arista Way is fundamentally different. We designed Arista EOS from the ground up to uniquely support quality, extensibility, fault-isolation and high availability with a single binary image and one OS-build across all platforms. All EOS functions run their own restartable protected process using a publish-subscribe-notify state-based "SysDB" to overcome the fragility of legacy inter-process communication (IPC) between network operating system agents. Arista EOS has been embraced by 80% of the major cloud providers for purpose-built cloud migration for storage, compute and big data archives. These demanding workloads are changing the way networks are reconstructed for cloud networking.
Introducing Arista EOS-NetDB™
Arista is not sitting on its laurels. We are proud of our heritage but continue to innovate. Today, we are outpacing the industry with revolutionary enhancements to Arista EOS. We are proud to reveal Arista NetDB, the network-wide, state-oriented database that enhances the core system database (SysDB), as shown in the figure below.
NetDB builds upon the SysDB architecture - sharing state over the network by adding network-wide actions, including state-sharing mechanisms for control, replication and network analytics and a central store for network state. This extends the benefits of the state-based system across the entire network.
The state sharing mechanism in NetDB has also been optimized to support large tables of millions of routes or tunnels to support spine-routing platforms. We will continue to challenge and improve our infrastructure offerings with EOS NetDB innovations. NetDB use case examples include coalescing mechanisms to manage overloads, state filtering for selective updates, export and streaming options for big data analytics and query capabilities for network-wide subscription methods.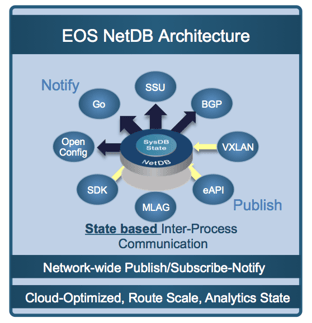 Figure NetDB: Network-Wide Publish-Subscribe-Notify State
A Determined Pioneer
Too many companies fall by the wayside when they become protective or inwardly focused. Those that learn to adapt experience far greater success. For example, Microsoft and Apple have reinvented themselves for new markets, as newer cloud companies like Facebook, Amazon, Google, or Netflix have done. Pioneering companies anticipate trends, challenge the status quo, avoid lethargy and respond to new markets. Arista is a fitting example of a determined pioneer focused on non-stop innovation. Our customers have appreciated and encouraged us and we welcome the new era of cloud networking. Happy 2016 to our well-wishers around the world!
References: