The Data Driven Enterprise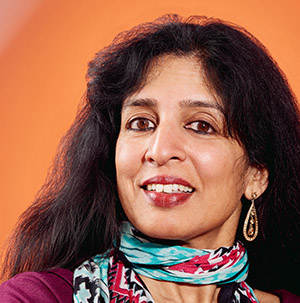 The rise of cloud migration for enterprises with mission critical applications is redefining the data center. The reality for any enterprise: a systematic approach balancing workloads in the cloud and premises while securing data. Data and applications must be managed as critical assets in the 21st century.
Overcoming legacy siloed designs and retrieval of data from disparate networks requires a thoughtful architecture that shares and ingests structured and unstructured data across client to cloud sources in real time. This requires a compelling network platform and a proper foundation.
The Next Phase: Arista's State and AI-Driven Nucleus
Since Arista's inception, our founders have always conceived and re-imagined cloud networks for performance and programmability. Arista EOS® is the cornerstone of our secret sauce based on a publish-subscribe-notify state-sharing model. As we enter the next decade of evolution, Arista's role in the industry is evolving from best of breed networking to become a strategic data-driven networking provider. Customers want their technology partner to deliver proactive platforms, predictive operations and prescriptive outcomes. Arista's inherent state -sharing innovative NetDB (network wide database) with a programmable data/control/management plane, has expanded to include an AI-driven nucleus via Ava (Autonomous virtual assist) for improved situational and application awareness, IOT/OT analysis and threat hunting. The CIO mandate to speed up enterprise or cloud workloads could take hours to reduce to minutes and requires a proper foundational network. Shown in the figure below.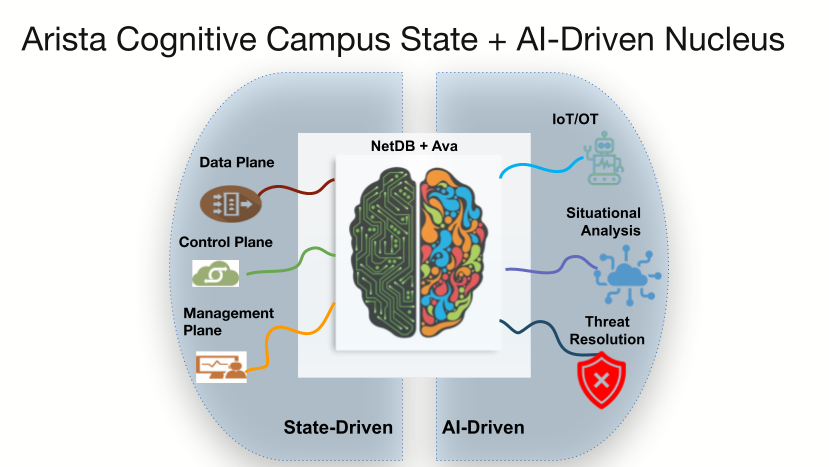 This data-driven nucleus ingests different sources of data across more workflows, more users and more devices with curated state-streamed data and analysis. The combination of Arista's CloudVision® and Ava provides deeper insights, context, response and remediation via sources of data exchange, amplifying the power of the network.
Post-Pandemic Evolution
The post-pandemic era has transformed the relevance of networking from connectivity to redefining a global cognitive platform. Even the concept of "data centers" is changing to distributed "centers of data." The campus is evolving from distinct headquarters to elastic workspaces across locations whereby the identity of the user is no longer tethered to one site.
To build a cognitive network critical questions must be answered. What is happening in the network? Proactive real-time platforms built upon data centric enterprise networks with in-band tracking must step up to solve real time telemetry and security requirements. This is augmented with Predictive insights and assurance based on AI/ML to answer the question "How do I deal with this network?" Examples such as Day 0/1/2 zero touch automation for operational success are key for client to cloud networks. Finally, our customers need Prescriptive insights to address "what should I do?" in the real world for improved availability, quality of experience and the appropriate contact tracing and threat vector reduction.
The sum of the proactive platforms, predictive deployments and prescriptive insights delivers on business outcomes based on human and AI heuristics.
Digital Data Transformation
The transformation from deep network design at the data plane, management plane and control plane levels, feeding continuous awareness and assurance, brings a single source of truth and positive business outcomes. Arista's rich heritage brings together EOS underlays, CloudVision overlays based on the nucleus of AI-Driven Ava and state-driven NetDB as a foundation. We will work tirelessly to build and integrate a vibrant ecosystem with our technology partners enabling the client to cloud portfolio.
Welcome to the 21st century of cognitive data-driven networks with no boundaries!