ANET Cloud Infrastructure – Arista Definition of ACI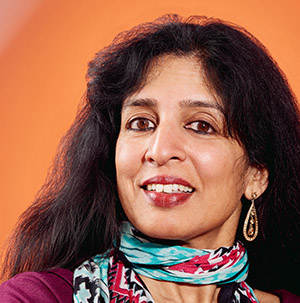 You may have noticed Arista being uncharacteristically quiet throughout an imposed "quiet period" leading up to our IPO (ANET). While the industry continued to speak out on behalf of, or against, Arista, the company remained true to its focus on solving customer problems through disruptive cloud networking architectures and technology. Enabling innovative applications to take advantage of modern networking through Arista EOS remains a key priority for the company.
The migration from legacy "policy per application" to universal cloud networks is crystal clear and underway. The classical 1990s web, file and database tier in client-server architectures, with north-south traffic, is migrating to universal workflow telemetry and workload automation for east-west, server-to-server traffic of the 21st Century. This is particularly true as networks move to mandates of terabit scale for data, control, and management. Arista invented the concept of "Leaf-Spine" and late last year introduced the "SplineTM" as architectures to support these next generation network requirements. Five years later others are still trying to mimic the approach but lack the fundamental software or scale to achieve it.
Through the years we've witnessed many failed attempts to lock-in customers with proprietary fabrics (FabricPath, QFabric, etc.) and once again we are witnessing more proprietary architectures with the introductions of ACI, OpFlex and others. Meanwhile, Arista remains focused on open, standards-based disruptions working with a broad ecosystem of partners. We have grown from zero to 2500+ customers. Cisco ACI seems to mean "ASIC Cisco Island". What does Arista's Cloud Infrastructure mean?
To answer that, let's get back to the basics of what customers seek as key pillars to well-designed software driven cloud networks.
1. Enterprise Applications are migrating to the cloud. Many enterprises already depend on a broad range of cloud-based applications such as NetSuite for ERP or Workday for Human Resource Management, as well as Google Apps, Salesforce.com, etc. Arista itself is a fitting example of realizing business value from deploying cloud applications internally, and we are seeing private, public or hybrid cloud deployments. These applications must be orchestrated, mobile and visible across the network and not be managed individually.
2. Cloud Networks must be inherently open and programmable. This is where granular and open APIs with well-defined Ethernet/L2/L3 standards come in. Nobody wants costly, closed proprietary architectures, unless you are a "one stop shop" that is risk-averse or fear-based. These shops will increasingly face shadow IT initiatives aimed at improving IT economics and agility. Avoid vendor lock-in and start with one project and use-case, then expand from there. OpenStack and Data Analytics are popular use-case projects for SDN.
3. The Network OS is a vital choice. The myriad legacy switch OSs (IOS, NX-OS, IOS XR, etc.) are not designed to be programmable as they are based on 30-year-old software principles. Slapping on API band-aids or using buzz words does not make it so. The fragility of a serial inter-process communication in a legacy OS to address reliability and quality is a source of much frustration to customers. The obvious answer is a design built from the ground up, like Arista EOS, based on a decade of foundational modern software with "state" oriented programmability for a publish-subscribe-notify model, all with a single binary image. This enables tremendous savings by reducing spending on Opex by many factors depending on configuration.
4. Universal Workloads & Workflows define Cloud Networks:
Cloud Networks demand an interoperable, standards-based API layer for applications and a flexible, open, agile and resilient approach. Cloud applications need a network that supports "east-west" universal workloads, not one that's tuned "per policy" for each application. The network should provide advanced visibility to ALL workloads, workflows and traffic. Cisco ACI implements proprietary headers, ASICS, Controllers and Tags, while Arista embraces standard VXLAN and VNI, is controller agnostic implementing standard L2/L3 protocols, APIS and support for multiple merchant silicon architectures. There is absolutely no need for proprietary lock-ins and ASICS. The figure below summarizes my views on where the industry is with legacy approaches versus the modern advantages of Arista and why networking is ripe for change for the next decade.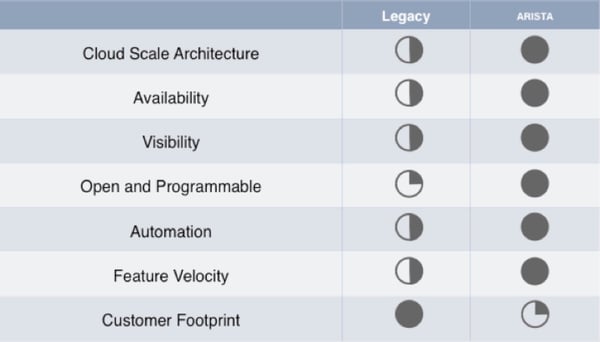 It is indeed an exciting time in modern networking with cloud economics possible in mainstream enterprises. I wish my Arista readers and well-wishers a happy summer of 2014 as we continue to demystify the buzz words, distinguish marketing from real products and realize true use-cases in Software Driven Cloud Networking. As always, I welcome your comments at feedback@arista.com