Introducing the Unified Cloud Fabric

In 2022 we are witnessing many forms of cloud networking pioneered a decade ago by Arista. Cloud models continue to take precedence through the new network as organizations address the scale of machines and network traffic.
Three forms of cloud networking have emerged:
Cloud scale for networks with 10-100K servers, scale-out storage and billions of containers or virtual machines.
Cloud class for best-of-breed leaf-spine designs with VXLAN, L2/L3 at the spine and n-way access to leafs and high levels of availability automation and analytics.
More recently, offerings such as Arista's Converged Cloud Fabric (CCF)™, bring an automated fabric built with cloud networking design principles, as shown below.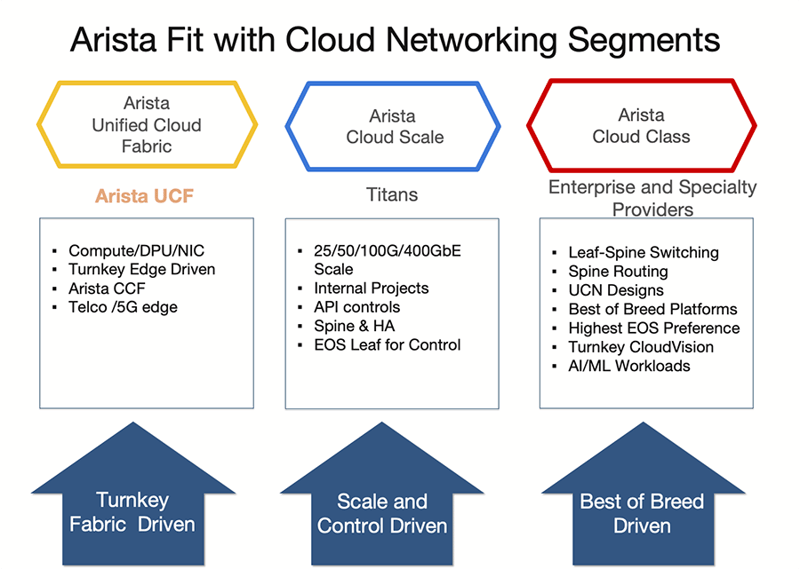 The Next phase of Converged Cloud Fabric
While Arista CCF leverages VPC/VNet constructs on-prem to deliver a cloud Network-as-a-Service operational model, a new class of networking fabric is emerging for multiple edge platforms, enabling the network to meet the low-latency, high bandwidth, high availability and speed demands of telco operators of 4G/5G networks. This new model requires software defined networking (SDN) that runs on a mix of switches, routers, compute servers and accelerator DPUs, such as the NVIDIA BlueField. The Unified Cloud Fabric built-in analytics provides real-time contextual visibility across the fabric and one-click troubleshooting workflows across multiple domains, enabling NetOps, DevOps and CloudOps teams to effectively collaborate and rapidly on-board applications and tenants.
"The NVIDIA BlueField DPU integrates with Arista cloud services to offload, accelerate, and isolate networking on each host to deliver unified SDN and secure cloud services extending from host servers across the entire data center fabric," said Kevin Deierling, vice president of networking at NVIDIA.
UCF, as shown below, exemplifies the importance of a fabric across multiple use cases.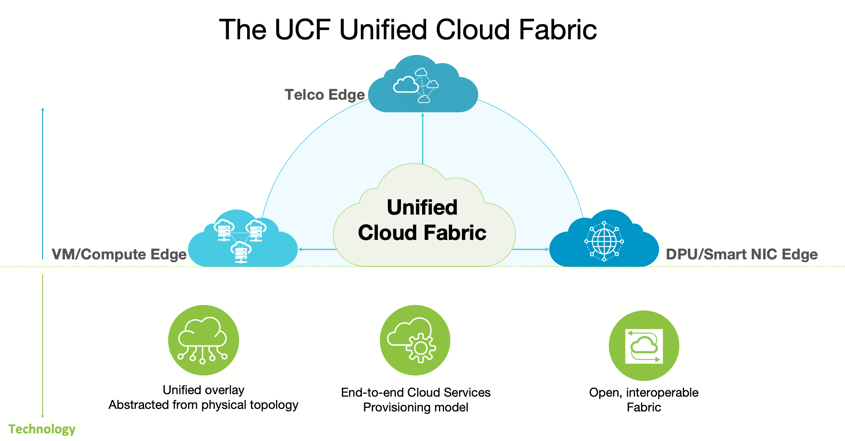 Arista Acquires Pluribus Networks
Arista is proud to announce its most recent acquisition in 2022. Pluribus Networks further enhances Arista's next phase of the Converged Cloud Fabric offering for next generation, smart edge and telco/cloud applications. As one strategic partner recently stated, "Ericsson has been partnering with Pluribus Networks for the unified cloud network fabric of the Ericsson NFVI solution since 2016. Together we have built a telco-grade networking fabric solution used in NFVI deployments. The acquisition of Pluribus by Arista Networks will further the Ericsson partnership with Arista Networks and benefit our joint customers deploying Ericsson's NFVI solution through Arista and Ericsson's combined networking expertise," said Lars Martensson, Head of Solutions Area Cloud and NFVi at Ericsson AB.
Finally, we have worked closely with the Pluribus management team for many years, even decades in prior companies. Both teams complement each other and possess a strong kinship in culture with synergies at many levels in terms of talent, technology and customers.
Stay tuned for more details as we shape the industry together in building next generation cloud architectures and fabrics.
References: