Transforming Silos into Universal Cloud Networking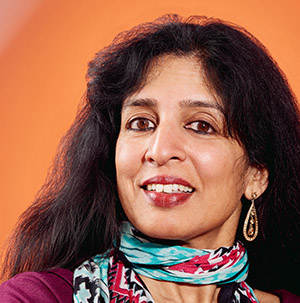 We have witnessed a massive shift in the way applications are built and deployed, moving away from siloed IT to seamless workloads, workflows and work-streams. This revolution has changed the fundamental way that networks are architected to enable support of cloud native applications. With these new architectures, one can now automate and provision the entire network with real time agility, ushering in a new class of cloud networks.
Arista's recent introduction of "universal spine and leaf" is both revolutionary in its disruption to legacy architectures and yet evolutionary in its approach to cloud network migrations. The enthusiastic reception from our customers of the 7500R and new companion 7280R has been very welcoming as they transform cumbersome and complex legacy router deployments and traditional management into simplicity with scale. It heralds a new era of integrated Places in the Network (PINS) as shown in the figure below for three different types of cloud networking segments.
Cloud Networking drives Integrated PINS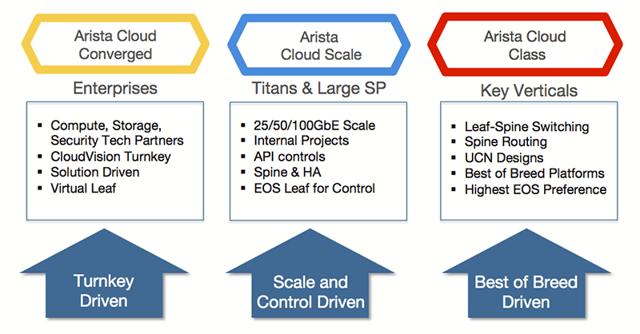 By integrating into an elastic network fabric, traditional PINS between data centers, branch, core and campus can be unified.
Lets review three examples of cloud networking segments.
Cloud Scale:
The global cloud titans have introduced dramatic new ways of constructing dense compute, storage and networks with unprecedented scale of millions of servers and zetabytes of storage. They recognize a great need to retain and improve the application control of their business, cloud-native applications. Arista has led the innovation of terabit scale universal spine networking from inception, building n-way ECMP and BGP Layer 3 networks comprised of spine switches supporting hundreds of 10GbE to 100GbE ports. Through deep and consistent collaboration we have developed network APIs and access to cloud tools addressing new requirements and programmatic methods. A few examples of this include our collaboration with Facebooks FBoss or Microsofts SONiC or OpenConfig standards. This evolution may lead to different models of leafs (Arista EOS or non Arista leafs) networked across tiers of universal spines.
Cloud Class
Arista's 7000 series best of breed platforms together with its software stack pioneered leaf-spine-spline designs, is a good example of Arista's cloud class offerings. Built on the foundation of Arista Extensible Operating System (EOS), it validates Moore's Law to advance the best feeds and speeds, latency, density, power and route or buffer scale.
As enterprise compliance mandates high availability, hitless upgrade and rapid recovery, alternate methods of innovation have been a paramount foundation. Arista has pioneered this software stack, open programmability and management models with devops, virtual machine, container support, macro security segmentation, automation and system-wide state for advanced telemetry are important criteria for cloud class networking.
Cloud Converged brings New 7280R Leaf, Storage and Media Partnerships
As enterprise data centers race to cloudify their IT, they are placing cloud-like demands on their legacy suppliers that often do not have the scale or capabilities. Enterprises need the network, compute and storage layers to be managed seamlessly through a single pane of glass as a turnkey offering. Some IT workloads may reside in the public cloud while some are converged on the premise and a hybrid converged solution is now required. Arista through its robust partner ecosystem brings that one-click CloudVision turnkey experience.
The exciting and new Arista 7280R Universal Leaf networking platform aligns closely with our growing storage ecosystem, including EMC, Hewlett Packard Enterprise, NetApp SolidFire, Nutanix, and Pure Storage to bring reliable, lossless IP storage as a credible alternative to legacy Fibre Channel SANs. It also underscores Arista's Media and Entertainment initiative, which includes key partnerships such as Aperi Corporation, Imagine Communications, LAWO, and Nevion and participation in industry standard organizations including the AIMS Alliance, Society of Motion Picture and Television Engineers (SMTPE), AVNU Alliance, and Video Services Forum (VSF).
The Cloud Networking Journey marches on
Arista is a determined pioneer focused on non-stop innovation as the central anchor of universal cloud networking.
For typical enterprises, we partner with compute, storage and security leaders to deliver turnkey solutions leveraging Arista Cloud Converged products based on CloudVision. For newer enterprises seeking competitive best of breed cloud-like advantage, Arista delivers Cloud Class platforms based on diverse silicon architectures, all running a single programmable software stack for telemetry and automation. For Cloud Scale Providers, the Universal Spine/Leaf offers the unprecedented route scale, re-convergence, resilience, and control required.
Welcome to the new modern world of software driven cloud networking. It's here now!
References: