The Universal Spine Is Born!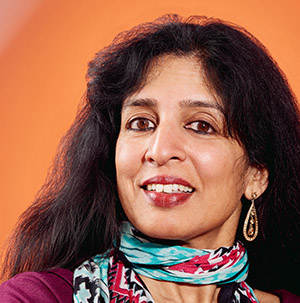 The rapid migration from enterprise to cloud, driven by the economics of scale, the convergence of local and wide-area networking (LAN-WAN), the migration from Fibre Channel to IP storage, the rise of analytics and the emergence of new cloud applications is dramatic. In the past two years, we have witnessed a massive shift in the way applications are built and deployed, moving away from legacy siloed infrastructure to seamless workload mobility. The demands of these new workloads change the way spine networks are reconstructed for cloud networking. As physical compute or storage silos evolve to support cloud applications, one can automate and provision the entire network to handle any workload, workflow or workstream, with real time agility.
Adding fuel to the fire are the killer big data applications. Big data is everywhere, and comprised of structured and unstructured datasets that grow so large that they become too cumbersome to work with using traditional management tools. Difficulties include network capture, sharing, analytics and visualization. The growth trend, though a moving target, is on the order of Zettabytes of data, pressuring a new class of cloud networks.
These changes call for a new nerve center pioneered in 2010 by Arista as the "spine" for universal cloud networks.
Introducing 7500R - The Universal Spine
To appreciate the spine, let's look back just a decade ago, when things were distinct, siloed functions. Switches and routers were separate products for LAN and WAN use cases in enterprises. Now, technology advances in switching and routing architectures are driving a dramatic shift from old routers to well-defined cloud designs.
With the Arista 7500R, we unveil the next generation of the Universal Spine with its many roles. Defying the traditional siloed definition of "router" and "switch" functions, the Arista 7500R blends the best of both with uncompromised performance and flexible cloud-scale networking.
As the 7500R blends the benefits of a superior platform with state based (NetDB) capabilities, many state-of-the art features emerge including:
Unprecedented scale
No drop dynamic & deep packet buffering of up to 288 GB of packet memory
Industry-leading spine convergence, queuing and availability
Real-time monitoring & self-healing
Investment protection across 10/25/40/50/100GbE with high performance fabric capacity up to 115Tbps
Uncompromised L2 & L3 forwarding up to 51 Billion packets per second
FlexRoute™ features for Spine-WAN including 1M+ routes, 100K tunnels, Selective Route Download, Multiprotocol Label Switching-LDP, Segment Routing, Virtual Extensible Local Area Network, etc.
>6X improved power usage versus traditional routers with Titanium rated power-supply efficiency
The list goes on and on…
Third Generation Investment protection
Arista has been a pioneer of this technology since 2010. Our deep experience with customers proves this. We are now deployed by 80% of the major cloud providers for purpose-built cloud migration. Simultaneously, the Arista 7500R is inherently designed for investment protection across generations, a rare feat in the box-centric race of this decade.
The choice of an optimal spine silicon alone is not enough. It must be combined with the best programmable profile (such as scale and queuing advances). Followers have attempted to mimic these advances, but few have designed or deployed cloud-scale spines with a balanced design which is devoid of inefficient flow-based hashing or super-framing algorithms.
Integrated Places In the Network (PINS)
The new 7500R spine challenges the notion of siloed and traditional "Places In the Network" (PINS) for campus, branch, data center or edge, and instead integrates an elastic and universal cloud network with multiple roles. The 7500R also accommodates multiple line card and fabric upgrades seamlessly with one single Arista EOS (Extensible Operating System) image and common chassis. At any given time, we believe complex system designs must be operationally simplified with open standards-based options, combined with our hallmark of cloud-specific value adds. The Broadcom "Jericho" chip is an example of high caliber design implemented in tandem with EOS for critical spine criteria shown in the figure below.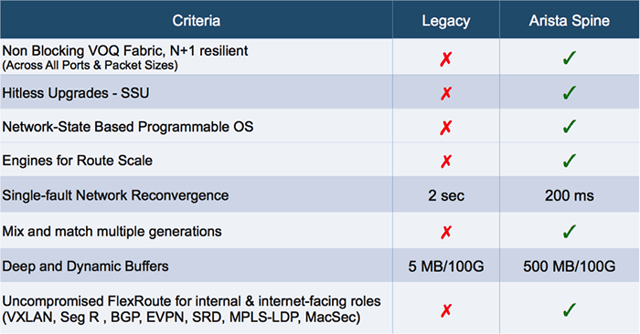 Together with foundations of high availability, the FlexRoute engine delivers unprecedented scale for both LAN and WAN routing. The Arista Universal Spine transcends traditional silo-based networking and can be connected to many types of leafs, whether Arista or otherwise. A spine that meets these criteria and characteristics allows the seamless integration of the PINS, be they racks of compute, storage, virtualized systems, security, wireless infrastructure or legacy edge routers.
Summary: The Old Core is the New Spine
Arista is a fitting example of a determined pioneer focused on non-stop innovation, with generations of investment protection for spines at the center of universal cloud networking. I couldn't be more excited as we introduce the "R" generation of Universal Spine networking! Welcome to the new modern world of cloud networking.
References:
7500R Architecture White Paper