Scaling Cloud Networking Up and Out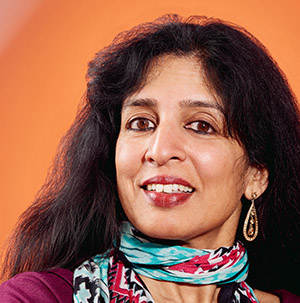 The broad adoption of Arista's 100G spines and the enthusiastic acceptance of Arista's R series exemplify the demands of cloud networking. Leveraging the programmable, state-based EOS software foundation and 12 different merchant silicon chipsets, Arista has transformed the datacenter market over the past decade. Today we are introducing the next frontier in router migration for the decade ahead. Arista has been in the forefront of industry firsts with state driven programmable EOS and CloudVision, based on network wide cloud-class control and management.
Universal Cloud Transforms Networking
Why do we need separate siloed networks for data center, branch, campus or core? What is the difference between LAN, SAN, MAN and WAN when everything is moving to Ethernet interfaces? Why do vendors push for separate products, or boxes for switches and routers, when silicon advances are driving the union of both?
The line between traditional places in the network (PINS) is changing. By eliminating borders between PINS, we create a seamless cloud network without artificial boundaries. Siloed switches and routers as distinct boxes create double the cost at half the efficiency. They can neither scale out nor scale up. Meanwhile, the datacenter trends are demanding scale-out spine-leaf architectures with up to 128 active paths, supporting millions of virtual machines.
Introducing Arista R2 Series:
After our Arista 7000R introduction last year, we are continuing to make our best better again, with the R2 series expansion. This includes innovative line cards for the 7500R universal spine and new models of the 7280R2 universal leaf. Our customers can invest in routing capacity to support the Internet table scale for today while future-proofing for years to come. Our newest spine chassis, 7516R, delivers with 576 ports of 100G ports at line rate, a deep buffered and virtual output queue architecture, over 2 million routes with expanded FlexRoute™ support, while also enabling spine capacity of 15 petabits of performance. These new features are accompanied by spine internetworking options for metro and long haul optical interconnect, building on industry pioneering innovations for datacenter interconnect.
Securing Cloud Services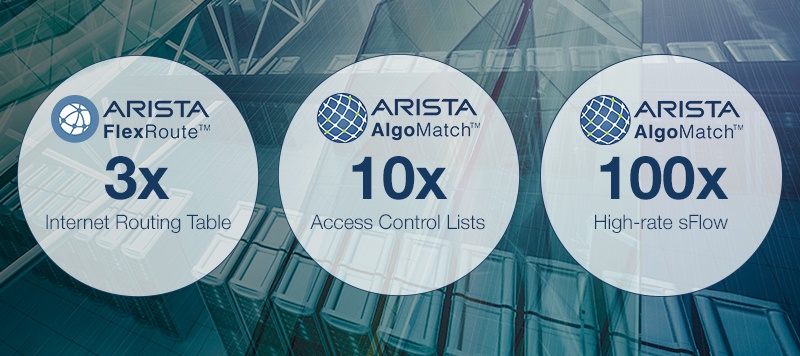 Accompanying this unprecedented scale are cloud networking services at 100G line rate, including telemetry, security, and routing with improvements of 3X-100X. Security enforcement is a key service and mandates supporting increased IPv4/IPv6 ACL (Access Control List) scale. New MACsec 256-bit encryption options add inter-datacenter security transparently. Arista is also leveraging Ethernet Virtual Private Networks (EVPN) across MPLS and VXLAN data traffic. Arista's AlgoMatch™ innovation redefines high rate sampling to offer the industry's highest visibility solution for dense 100G, useful for detecting Distributed Denial of Service (DDOS) attacks. TAP aggregation with DANZ, DataAnalyzer, support brings further integration of 100G telemetry.
Migration to Universal Spine & Leaf Routing
Despite entrenched routers, the inevitable spine migration is marching on with greater performance and scale, more flexible security and deeper visibility. It has dramatically changed from static to dynamic provisioning of workloads, workflows and work streams with Agility, Availability, Automation, Analytics across Any Cloud API and workload. These 5 A's accelerate spine and leaf deployment for expanded routing use cases, such as Internet Exchange (IX) cloud fabrics, additional Network Functions Virtualization (NFV) solutions for cable providers and 5G mobile packet core migration with consistent EOS and CloudVision.
Some market or mimic. At Arista, we pioneer and deliver. Welcome to the 2020 transformation, ushering a new era of universal cloud networking!
References:
Arista Networks Scaling Up the Network Video
7500R Universal Spine Architecture Video