The Road Ahead for Cloud Area Network Migration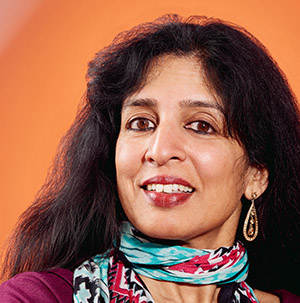 CIOs today mandate a 'Cloud First' or a 'Cloud Only' model for new IT investments with three different cloud models.
This includes:
Cloud Native: These applications tend to be extremely high performance in a public cloud and are designed to linearly scale up and back down with workload changes.

Monolithic: On the other end of the spectrum there are legacy monolithic applications that have dedicated databases, application servers, and web front ends or dedicated client UIs.

Virtualized or Containerized: Somewhere in-between are virtual machine or container-based packages of applications – often resembling micro-services patterns. These were generally created to reduce the amount of IT costs and more efficiently utilize modern multi-core processors.
Addressing the 2020 Era of Applications
Most enterprises require one of three models to deliver workload acceleration, management, orchestration and automation as a cohesive and secure extension of the Enterprise into the public cloud with 100/400G access for consistent performance. Delivering the cloud network for the enterprise means that the business is never locked in, and IT and business leaders together can make the best decision for that particular business about what applications run where and at what pricing and support model. This will sometimes include on-premises bare metal, VMs in a data center or cloud native functions in the Azure cloud, and serverless web apps interacting with SaaS delivered cloud capabilities. It all needs to happen without making tradeoffs on identity, policy, controls, connectivity and portability.
Introducing Arista CloudEOS™
The future of cloud networking has to address the new cloud native and legacy applications built decades ago that run their production control systems or handle client billing. Sure, these apps could be moved to the 'cloud', but only as expensive reserved VM instances. What businesses need is an architecture that IT can build and support that delivers an operating model supporting the applications the business depends on, enabling innovation, and giving the business the ability to make flexible business decisions about what location, architecture, provider, or model needs to support a given application.
Arista's CloudEOS was designed for that goal. It provides two main capabilities: CloudEOS Multi Cloud, a high-performance virtual machine,normalizes the connectivity patterns to and between public clouds,simplifying the networking operating model for cloud and network operations while enabling declarative software-based provisioning through popular DevOps tools like Terraform. Arista's CloudEOS Cloud Native, an instance of EOS deployed as a Kubernetes Container Network Interface or stand-alone Kubernetes container, supports enterprise-class networking stack within Cloud Native environments.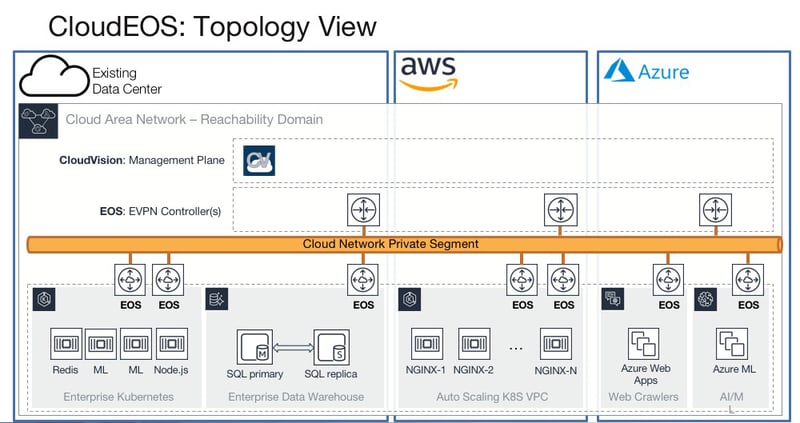 Arista CloudEOS is designed for network intensive cloud architectures, requiring a new set of capabilities and functions to be delivered to improve the end user and operator experience in this, a most challenging, environment. It is not a one-silver-bullet technology solves everything kind of problem. Instead it is tackling the sprawl of VMs, containers, serverless, and SaaS capabilities and on-premises applications, and distributed user bases.
Building Cloud Enterprises is Hard
In the 2010-2020 era, many hybrid cloud endeavours have missed the mark because they simply repackaged enterprise OS and assets and did not address the diversity of legacy to cloud native applications. This is why Arista's CloudEOS did not try to address its offering with 'one trick ponies' who see the world as a nail to be hit with a singular technology hammer. It takes an incredible software stack like Arista EOS®, a federated management plane like CloudVision® and strategic partnerships with the best platforms, be it Microsoft Azure, Red Hat Kubernetes, VMware or DevOps tools to create holistic cloud networks that work across public, private and hybrid models.
Welcome to the new world of software driven cloud area networking! As always feel free to reach out to us at info@arista.com or the website for more details.
Reference:
The Making of Arista – Cloud Transformation Booklet