Relevance of SDN in Cloud Networking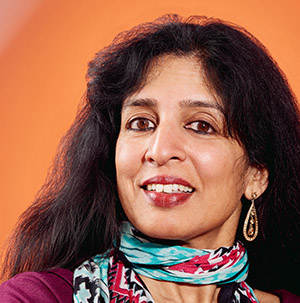 SDN (Software Defined Networking) is finally becoming clearer. It is not "Still Don't Know" nor is it a specific overlay controller. Simply put, it is an open and programmable way to build networks for customers looking at utilizing hybrid combinations of public and private cloud access.
We are witnessing a shift from multi-tier oversubscribed legacy enterprise networks to two-tier leaf-spine or single-tier Spline™ cloud networks with east- west traffic patterns scaling across thousands of servers. Arista was the first to introduce this new architectural "leaf-spine" approach for cloud-based networks and five years later others are still attempting to mimic. Lets review some practical examples.
Facebook: Take an important and familiar social networking application, Facebook. Their public information shows that they deploy a memcache architecture, which allowed them to reduce the user access time to half a millisecond by using fewer network tiers, resulting in lower application latency. As we log into Facebook, the single login request triggers thousands of look-ups on databases and memcache servers. Legacy enterprise multi-tiered networks would result in delayed look-ups and would negatively impact the user experience and interest in a significant way.
Amazon: Shopping couldn't be easier than online on your favorite site. Have you noticed that as you're clicking on items, one can see not only the reviews and customer ratings but also analytics on customer buying behaviors? Have you ever wondered what network powers this marketplace? A real time SDN-class cloud network improves profitability and delivers uncompromised user experience.
Public Cloud pioneers such as Microsoft, Google and Yahoo are providing the largest cloud platforms in the world for everyone to use. In many cases, these cloud platforms deliver infrastructure services that are even more cost-effective than what companies can build internally. In addition, the same underlying infrastructure provided by these cloud providers can support all applications. In order to scale across industries and across different application scenarios, the network design needs to be uniform. This way, a single network design works for a range of applications. While this is the requirement for large public clouds, it holds true even for private clouds in enterprises that want to "cloudify," as well as for hybrid public and private cloud scenarios.
Big Data Portals like eBay: With the explosion of available data on any business metric, analyzing unstructured data has become important. Apache Hadoop and similar MapReduce applications make such data analysis possible. Such applications require any-to-any non-blocking connectivity with low latency. It is not practical to limit Hadoop processing and the associated storage clusters to just a single rack. Cloud Networks scaling across multiple racks of servers with uniform storage performance is paramount. Examples include many large financials, media and entertainment companies and health care firms, as well.
Novel Networking Platform
Arista's EOS® is a disruptive innovation. Arista's foundational EOS architecture delivers a new "publish and subscribe" approach to storing system state, and in combination with recent EOS+ enhancements results in dramatic improvement in operations cost, scale, system resiliency and ultimately network availability. Arista is pioneering innovation based on the following five principles, which are often prescribed by SDN:
Open and standards-based networking
Extensible and programmable network infrastructure
Capex and Opex savings
Highly scalable and resilient architecture
Evolutionary migration for customers
Built off a clean sheet of paper, Arista EOS is akin to human DNA that keeps regenerating new cells without rebooting for maintenance.
Programmability at Granular Levels
Arista offers six types of extensibility, bringing novel concepts to software-driven cloud networking as described below:
Management plane extensibility via APIs, such as EOS API (eAPI) and SNMP. Using simple, well-documented and widely used programming models such as Java-Script Object Notation (JSON), eXtensible Markup Language (XML), Python and XMPP to interact with the EOS management plane, Arista's APIs provide direct programmatic access to management systems such as HP OneView, EMC Smarts, VMware vCenter/vRealize, IBM Tivoli and Splunk.
Control plane extensibility via advanced event management (AEM), a complete event handler subsystem to allow real-time and event-driven programming of the Control plane. Interacting with SysDB, Arista EOS can enable network switch actions on any state change in the system through a set of pre-defined triggers.
Data plane extensibility with in-line programmability. Customers looking to tune their application performance on the network can customize traffic flows by filtering and redirecting traffic using industry-standard OpenFlow or controller-less Arista DirectFlow constructs.
Virtual Machine extensibility using Arista vEOS and VM Tracer. The Arista vEOS control plane provides the ability to run the same EOS software as a VM inside any virtualized environment. This provides customers the virtual machine flexibility for lab certification efforts or for development purposes.
Application level extensibility for third-party development. The Arista EOS applications portal opens up Arista EOS to third-party development via SDK tool kits, scripting and APIs, making possible new types of applications as well as off-the-shelf integration with best-of-breed solutions.
Access to all Linux operating system facilities including shell-level access. Arista EOS can be extended with unmodified Linux applications and a growing number of open source management tools to meet the needs of network engineering and operations. Also, Arista EOS provides direct access to the full set of Linux tools such as tcpdump through our full binary Fedora compatibility.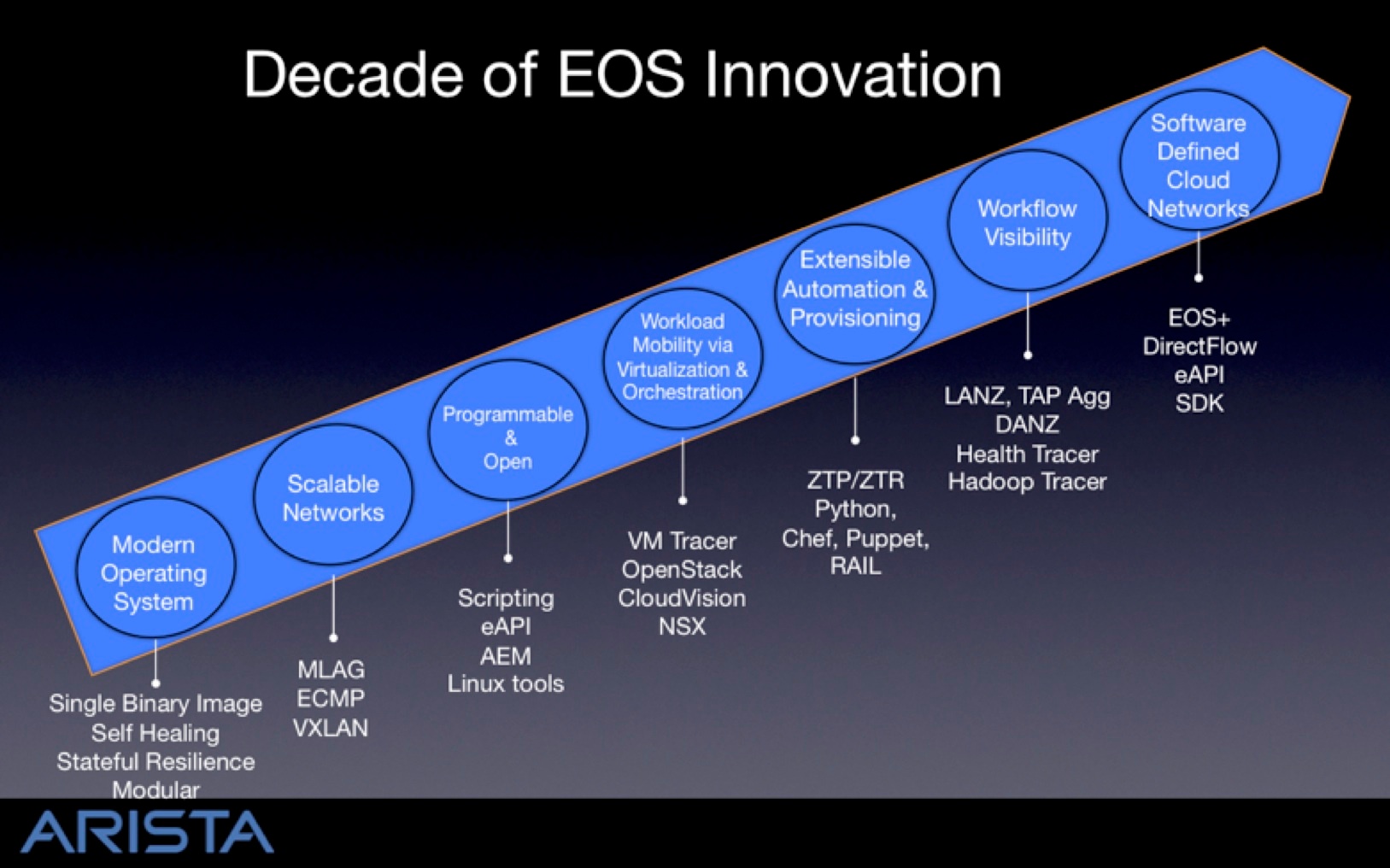 Summary: EOS=SDN
At Arista Networks we are proud to deliver software-driven cloud networking innovation that helps our partners and customers benefit from cloud access. We are not resting on our laurels. We continue to advance SDN to meet the needs of our customers. As always, I welcome your comments at feedback@arista.com.
References: