Our Next Frontier in Cloud Networking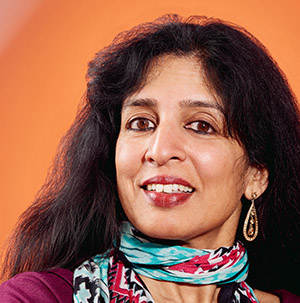 When Arista launched Cloud Networking in 2008, many did not grasp its profound impact. Today it is an industry reality, with 750+ worldwide customers deploying Arista's cloud network (leaf-spine) design model. As traffic patterns shifted rapidly from north-south client-server to more horizontal east-west server-to-server traffic, the two-tier cloud network was born and became mainstream for modern applications. Even the traditional vendors are validating Arista's cloud networking vision and execution by using our terminology as they try to articulate their next phase of data center vision.

Reducing the latency that server-based applications experience when accessing data in the cloud is usually the primary driver for building two-tier cloud networks. However, replicating or shuffling data also requires significant any-to-any node data traffic handling to be effective. A well-provisioned cloud network handling any-to-any workloads, and providing high bandwidth, low latency, and uncompromised operational tools brings a sustainable and profitable advantage to our customers.
Arista CloudVision®: Two-Tier Scale, One-View Vision
Today Arista proudly introduces the next phase of Cloud Networking.
Arista's latest 7050 leaf switch combined with the flagship Arista 7500 spine means that cloud providers can now build some of the largest cloud networks in the world (scaling from 18K nodes to 30K+ non-blocking nodes), which are capable of delivering hundreds of terabits of capacity. Furthermore, Arista's latest innovation, CloudVision® layers a single view upon this massively scalable cloud network across thousands of switches (translating to millions of ports!) It is bringing, for the first time, a single and holistic view across users, machines and networks with unparalleled scale. While others are talking of a maximum scale of 6000 nodes, Arista is once again setting the standard for scaling cloud networking by orders of magnitude.
Emerging Cloud Stack: Best of Breed Building Blocks
There is no doubt that a new cloud stack is emerging, which cannot be considered in isolation from compute, storage, virtualization or applications. It demands a best-of breed cloud network OS designed from the ground up. Powered by Arista's Extensible Operating System (EOS), our ground-breaking network software is designed for multi-process state-sharing across the network. We are building a critical and open foundation for the cloud; one with user-defined functionality which leverages open source tools to help any cloud cluster reach its full potential. With EOS, we allow the full power of open source to be utilized to enable a smoothly running, highly available network. Arista is working with leading cloud providers to make this foundation a reality as a critical component of the open cloud stack initiatives.

The possibilities for this new cloud network architecture are nearly endless and the need for the new cloud network is clear. No proprietary tags, no hype, just the best products based on industry standards for cloud networking forming the nucleus for a new cloud stack.
A Resilient Cloud Network Demands A Purpose-Built Cloud OS
Next-generation systems and cloud applications are driving a new software framework for dense compute engines in data centers from Cloud Providers to Google/Yahoo to E-Bay, Amazon and Facebook. Unstructured information needs to be combined with structured information to yield maximum benefit. Unlike previous decades of Cisco IOS or Juniper Junos, Arista EOS is the most open, modular network foundation for next-generation cloud networks, isolating the network state from its processing and offering self-healing and live upgrade possibilities. It was purpose-built from the ground up for the business needs of cloud networks.

EOS automatically contains faults and better yet repairs them (via Software Fault Containment (SFC) and Software Fault Repair (SFR), respectively), and also enables rapid re-provisioning of any failed nodes during execution which is vital for cloud designs. Highly available, fault-tolerant networking and resilient software can make sure that the cloud network stays running even during network upgrades.

No other networking software system has taken such a transformational approach to the data center and cloud for scale, resiliency and extensibility.
EOS Central: An "App Store" Community Portal
Modern applications are creating a disruption within the world of legacy enterprise software and closed networks. Arista is further expanding upon its EOS jewel with an 'App Store' portal that opens up Arista EOS to third-party development. This is a novel concept in networking driven by demand and interest created by cloud providers in the hosting of mobile applications. Arista is pleased to introduce a community portal for EOS. Dubbed EOS Central, it enables our partners, customers and developer community to customize applications which provide unique customer value delivered on top of our EOS platform.

The rise of real-time cloud applications has become a key element in the business decision process over the last decade, and the ability to process unprecedented volumes of data is a consequent deliverable and differentiator in the information economy. Classic closed systems are increasingly unattractive compared to open, standards-based extensibility.

Welcome to our next phase of Cloud Networking where uptime, automatic self-healing, seamless scale, openness and one holistic network view is paramount. As always, I welcome your views at: feedback@arista.com.
References: