Managing the Cloud Network: CPM or APM?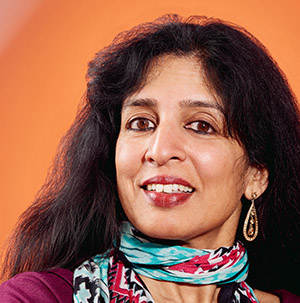 We all know the future of enterprises is in flux with the consolidation or demise of Avaya/Nortel, Brocade/Foundry, Force 10, H3C and BNT assets. This speaks to the major trend of enterprise applications migrating to the cloud, any cloud be it public, private or hybrid. As this rapid transition prevails with efficiencies and scale, traditional applications and tools cannot meet the needs of exponential cloud growth.
The Application Performance Management (APM) category may be a good asset for monitoring traditional IT applications, but the industry needs to rethink native cloud application management especially when cloud-based services are growing at a massive rate.
How can Arista and customers architect and interpret this massive cloud content to cope with cloud networking growth and workload mobility? Can APM tools really solve this? Or is it about a truly new class of Cloud Performance Management (CPM)?
Legacy APM versus CPM Modern Tools
In tandem with public cloud dashboards, CIOs are looking beyond the traditional application lens to the overall future of hybrid cloud IT. The differences between cloud analytics and legacy APM are stark in scale, quality and aperture of the data collected across the network services. Modern telemetry tools (such as Arista's CloudVision™) go well beyond legacy performance monitoring to real-time visibility of cloud traffic and transactions of workloads, work-streams and workflows. In order to deal with visibility in the 2020 decade, key goals are needed. We at Arista define this as AAAAA.
Introducing AAAAA
Today's customers need a modern software stack for cloud networking such as Arista EOS, based on the following key principles:
Available Architecture: Delivering a self-healing architecture of quality and aperture of data-collection across a highly available leaf-spine network with link, path, device and network wide redundancy.
Agile Work-X Legacy tools are typically unaware of micro work-X services such as bare metal compute or new workloads like containers, work-streams video or workflow for storage. Arista's decade of building a highly available EOS foundation leverages this inevitable shift to focus on key principles.
Automation: Workload mobility across the cloud network and the emerging container infrastructures for rapid and agile provisioning in minutes rather than hours or days.
Analytics: Tracing the workflow information across the different domains to quickly pinpoint problems through telemetry tracers that abstract the actionable meta-data state for dynamic correlation.
Any API Cloud: Whereby the state of the network (via Arista NetDB™) and open APIS offers Private and Hybrid Cloud deployments and auto-learning predictive methods with partners in the Arista ecosystem such as Splunk, F5, Palo Alto Networks, Checkpoint, VMware, Docker, ServiceNow and DevOps tools.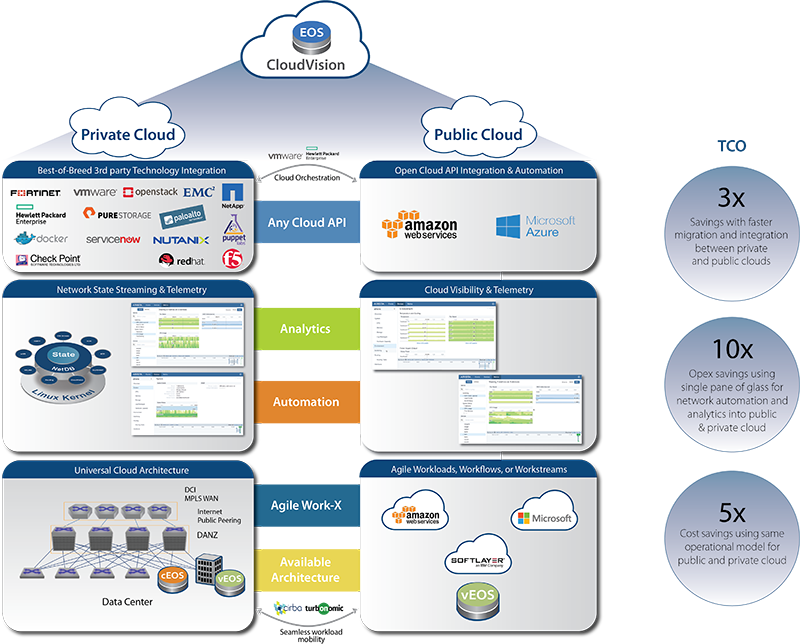 Entering a Mainstream Cloud Era:
For decades, enterprises have struggled to cope with performance of legacy mainframe or client-server applications that cannot be rewritten. Many enterprise apps are connected both to users and machine-to-machine but are blind to the underlying network relevance for real-time user agility and experience. Arista CloudVision and EOS optimize network services and cloud access for improved performance. In this modern, software driven, state-learning paradigm, an architecture responsive to the data (consisting of many work-x services) rather than reactive to an individual application silo is critical. The inherent programmable state at every sensor of the network spine is truly the next frontier. Welcome to the Arista 2020 era for next generation cloud world, available here and now!
References:
Webinar: Datacenter Automation and Visibility in Containerized Environments