Good to Great: Hallmarks of High-Tech Leadership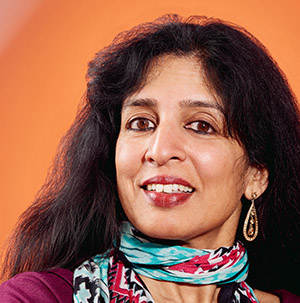 You are probably expecting me to write another monthly blog on exciting innovative technology. Today I digress and reflect on recent awards and accolades Arista has received and how we got here. At Arista, we have worked very hard to become a great company. Building a good company takes constant hard work and heavy lifting. Making a great company is an even harder work-in-progress, demanding tenacity, especially in high technology, where disruptions are daunting and challenges are frequent.
Technology evolution is complex, and changes happen at a rapid pace, requiring dexterous course corrections. An undisputed champion of an industry today can become stagnant in merely a few years. Silicon Valley celebrates successful start-ups, applauding hot IPOS and declaring winners by measuring the net worth of the founders. Companies and leaders go from hero to zero, unable to live up to the hype. A fairy tale existence can turn into a nightmare when companies fade into oblivion if they trip.
Why do we see this cycle repeating itself?
I think it is because our industry and those who judge us emphasize the wrong metrics in the evolution to greatness. Short-term profits, growth, momentum stock price and exit strategies are rewarded instead of differentiated engineering investment and customer quality. This creates a vicious cycle for tactical metrics instead of a sustained principle of doing the right thing. On the other side of the spectrum, larger corporations swing to the safe direction, bask in their past glories and make low risk decisions.
Going from a good to great company takes a monumental series of changes that are not incremental but exponential. A dedicated strategy and commitment to execute upon it defines courageous leadership with a culture of innovation and teamwork setting the tone.
As the late Steve Jobs, founder and CEO of Apple once said, "Innovation distinguishes between a leader and a follower."
Conviction of Purpose
In the pursuit of greatness, the leader must be unassailable as a visionary and a person of action. It must be someone who not only creates an initial wave of success, but also builds an ever-lasting foundation for future phases. This is easier said than done in practical cases. It often requires one to question the norm and not follow the popular vote. Instead, we must examine the nuances and the opposite of the prevailing view. The ability to question the status quo of engrained habits and even oneself to navigate the right direction is vital.
Change is uneasy. Sometimes you need that re-architecture or significant shift in direction. What destroys many companies is complacence, stifling innovation, denying new trends, blinding people with overconfidence and even arrogance. Most corporate leaders create middle managers for a steady and stable organization. There is nothing wrong with that, except that they often rely on middle managers excessively, whose primary jobs are preventing immediate problems. Middle managers are designed to avoid tactical mistakes. Mismatched CEOs of the 1990s in Apple, Yahoo, etc. taught valuable lessons in choosing leaders carefully without alienating founders. The great leaders foster healthy partnerships with founders as a united team (as we have seen in Facebook, Google, Microsoft) to avoid toxicity and ego at all costs.
Create Turning Points
Every technology company must navigate its phases of success and the first phase rarely resembles the next. Next generation leadership needs thinkers who can identify the risks, find the hidden jewels and build upon them. Leaders empower their teams, and their behaviors are the opposite of linear management. They foster direct communication and access across employees to plan orderly transitions and encourage a hands-on style. Leaders gravitate in this direction, while typical managers do not see it coming.
To quote Scott Cochran in the Herald Journal in a recent September 2017 blog*
"Just because your product sold well yesterday, doesn't mean it will tomorrow… Being inappropriately risk aversive is a death sentence for your organization."
Both Adobe and Netflix realized their core markets were changing in the 2010 timeframe. In the midst of rapid growth of their primary key markets, both companies shifted their business model proactively to become SAAS or streaming models respectively. Not only did their CEOs demonstrate their agility and avoid complacency, but they also developed the next phase of growth for the company in the midst of the current one. Perhaps one of the most poignant examples of a large corporation's success (that is a bit northwest of Silicon Valley) is Microsoft. CEO Satya Nadella displayed purposeful vision for developing the public cloud (Azure) offering ten years ahead of market reality, while the company was still developing its first phase of enterprise applications. He created a turning point that took courage and conviction, and it has served the company well in overcoming legacy habits to the cloud migration.
Tech-Time is Real-Time
Tech Time moves at the pace of cloud-years. Every calendar year is the equivalent of ten cloud years. To navigate high-tech company in real-time goes beyond incremental shifts. Tech companies and its leaders must adjust to the rapid pace of change. It transcends their skills and familiar business models to distinguish decision-making in "tech-time". Tech time is often days or weeks not years. Anticipating trends, seeing patterns and placing big bets keep the best companies on top of their game. A bold extrapolation without always having every data point is a valuable trait. Of course it takes a whole village of talent working in unison to make it happen.
Future Leaders:
2020 Leaders must be instinctive, courageous and vigilant in not taking present course for granted. Expanding the company's precious asset, out-maneuvering competitors, questioning traditional logic and recognizing mistakes are important traits of leaders ahead.
Working towards the right outcomes for Arista, combined with lasting culture makes it personally rewarding for me to lead Arista. I am privileged and proud to be part of Arista and our talented team working on our journey ahead. I wish all my readers, employees, shareholders and customers very happy holidays and new year. We look forward to unfolding the next phase of Arista in 2018!
*Scott Cochran: Don't become complacent