Evolution from PINs to PICs Cloud Networking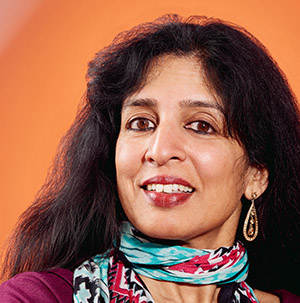 Networking is simply so cool again after decades of static and stagnant silo designs. The rapid acceptance of universal cloud spine across a variety of clouds and industry verticals is a testament to just how critical of a problem this is to IT. By adopting a clean sheet of modern methodologies and code with a programmable state-based foundation, we are embarking on the next frontier.
The advent of native cloud applications and SAAS (Software as a Service) models are redefining siloed PINs (places in the network) into the "cloudification" of the enterprise or PICs (places in the cloud).
Software Defined WAN or Cloud?
Recently there has been much hype on SD-WAN and its merits. No doubt there are benefits to migrating from traditional MPLS circuits to IP based VPNs but we should step back and look at the bigger picture for SDN. Is it SD-WAN or really SD-Cloud?
In my view, the overall purpose is SD Cloud (software driven cloud). While we have witnessed major changes to many migration workloads – compute, storage, virtual apps – networking is lagging in these trends. That's because one critical aspect of IT has fallen farther behind: improving the agility and relevance of entrenched enterprise networking to improve TCO. The mandate is a more software driven approach for cloud scale economics that balances the workloads between the public and private enterprise. The lines bordering traditional networks are changing. Why do we need separate networks for datacenter, branch, campus or core? What is the difference between LAN, SAN, MAN and WAN when everything is based on Ethernet interfaces? Why are there separate boxes and products for L2 switches and L3 routers when silicon advances are driving the union of both in a universal spine?
Private, Hybrid and Cloud Models
The new software driven cloud paradigm transcends the public and private cloud and radically changes the premise often referred to as the hybrid cloud. Despite deeply entrenched legacy models, cloud networks are the future and enterprises must adapt or face the perils of legacy costs. Arista's game changers with network-wide state streaming and CloudVision have dramatically changed the face of automation. We have gone from static to dynamic provisioning of workloads, workflows and workstreams through agility, availability, automation and analytics across any API and cloud workload. We call these the 5 A's, and they are indeed transformative to network applications and the cloud transformation. Cloud Networking is not just for the large scale Titans but for every private, hybrid branch or datacenter to migrate their workloads across "any cloud" as shown in the picture below.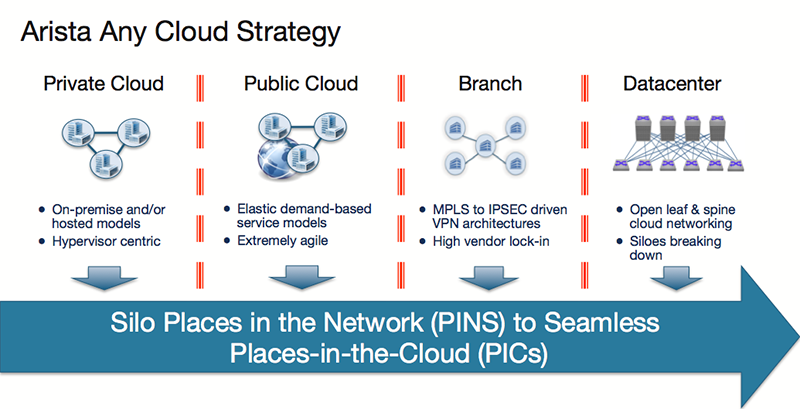 Welcome to the new and exciting Software Driven Cloud Networking world migrating from PINs to PICs!
References: