Cognitive Campus - Next Frontier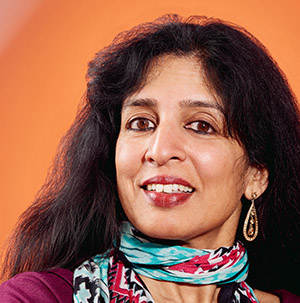 Arista's focus on disruption, with datacenters and routing, transforming siloed places in the network to seamless Places In the Cloud (PICs) has been well appreciated by our customers. Our cloud networking decade has been achieved by upholding these cloud principles and I believe these trends will influence cognitive campus PICs. Legacy campus networks suffer from a similar complexity of too many layers, boxes, cables, operating systems, proprietary features and network management choices. A change is very much needed and welcome in the 2020 era.
Building the Cognitive Campus
Building on the impact of Arista EOS® (Extensible Operating System) and CloudVision® innovation, Arista announced and began shipping the X3 Splines in May 2018, collapsing aggregation and core into one tier and accommodating different types of edge devices. With the introduction of Arista's Cognitive Management Plane (CMP), old polling methods are now being challenged. In August 2018 we took another important step with our first acquisition redefining the campus edge – Mojo Networks with cognitive WiFi. Traditional wireless Access Points (APs) have been managed by a separate Wireless LAN Controller (WLC) with its own proprietary methods. Arista's Cognitive WiFi eliminates legacy controller bottlenecks and complexity to improve user experience through an improved cloud-based, cognitive model. With the advent of higher speeds such as 802.11ax at multigigabit speeds and cloud-based scale, WiFi has equal status as wired in CMP and state based architectures as shown in the figure below.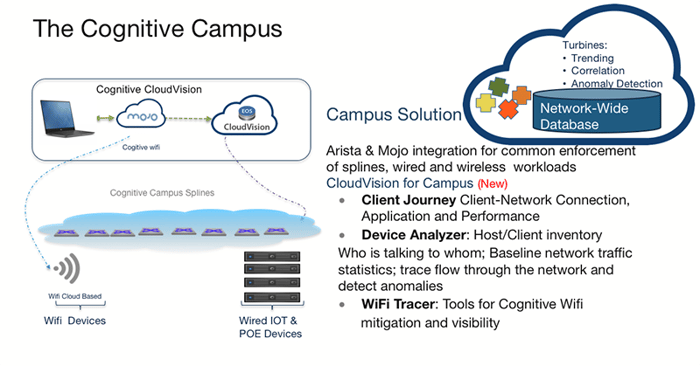 New CloudVision for Campus
Arista's flagship CloudVision, built on the CMP engine, has become a proven and powerful platform for turnkey orchestration, provisioning, and telemetry for many enterprises. Born initially in the datacenter, CloudVision today extends the same common operational model into the cognitive campus. Existing wired and wireless campus networks have to cope with ever-increasing endpoint devices and diversity. CloudVision's latest innovation, Device Analyzer, provides analysis and inventory of devices. Campus administrators can access diverse device types, connectivity methods, locations, and monitor user and device experience to verify unauthorized or compromised traffic.
Arista+Mojo Integration brings Cognitive Wifi Edge
With the acquisition of Mojo Networks, Arista now integrates the wireless edge into the CloudVision platform. The depth of Cognitive WiFi is demonstrated with both our client approach for baselining and specialized WiFi tracer features for visibility and mitigation.
Client Journey focuses on a dashboard for operators to diagnose user experiences. This includes client connectivity, tracking availability of network services, application performance, and identifying the root cause of WiFi issues with proactive and historical telemetry. WiFi Tracers strengthen wireless troubleshooting with tools for security, reachability and network health diagnostics.
World Class Campus Networking
Arista's relentless pursuit of delivering a world-class cognitive campus portfolio of splines, unified wired and wireless edges, and applying modern cloud principles continues. Coupled with the explosive trends in growth of IOT/endpoints, users, and devices, the complexities and cost are becoming more prohibitive for deployment. Simplicity is key. I am excited by the future of cognitive campus and as always, I welcome your comments at feedback@arista.com
Reference:
The Cloud Networking Decade Video