Cloud Networking Platforms - it's all about making choices!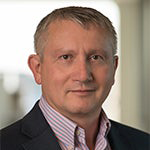 Whether it is something as simple as what kind of coffee to order for your commute to the office, which route to take to avoid traffic, or in my case, whether to support the USA or England in the 2022 world cup group stage game, we all make a myriad of choices every day.
When developing and planning a next generation network, it's important to make choices to factor in current and future needs and the overall architecture. One size does not fit all, and choices allow the flexibility to determine how current and future systems will co-exist. Having a set of choices makes your options wider and allows better decision making. Whether employed by a large hyperscale cloud, an enterprise or a public sector organization, a set of choices will face you. With the release of the latest 7050X4 and 7060X5 products, we are providing customers with even more options, or choices.
Starting with the new additions to the 7060X5, we have now introduced the first 32 x 800G fixed system, delivering 25.6Tbps with a choice of OSFP or QSFP based optics. There is that word choice again.
These additions to the 7060X5 Series mean customers have a choice of three 25.6Tbps systems, enabling different answers to the question of what the right choice is for a spine in the data center.

We have also added a new 32 x 400G based on the same silicon, providing consistency in a smaller performance system with just 12.8Tbps.
Just as in the past it was not expected that one solution would meet the needs of every requirement, in the latest generation of networking, that is still true. Different customer use cases and application deployments within a single organization have differing requirements. Each deployment needs a right-sized solution - few applications need 400G of bandwidth per server today, but many organizations need to do the groundwork for the move away from 10/25G. When faced with choosing the right systems for a leaf, being able to support both the existing install base and prepare for the new systems is a key aspect, but of course not the only one.
The Arista 7050X Series is based on the Broadcom Trident family of high speed packet processors and has provided customers with a choice since the first 10/40G product was released in 2011; back then, the choice was an SFP+ or RJ45 port for 10G or a QSFP+ port for 40G.
Since 2011 a lot has changed in networking in terms of protocols such as VXLAN, EVPN, table sizes, buffers, monitoring and integrated flow visibility, to name just a few, but the 7050X Series still provides a range of systems that provide a choice of form factor, interface speed and density.
The five newest members of the 7050X4 Series are based around an 8Tbps packet processor and offer unique front panel choices, each optimized for different requirements.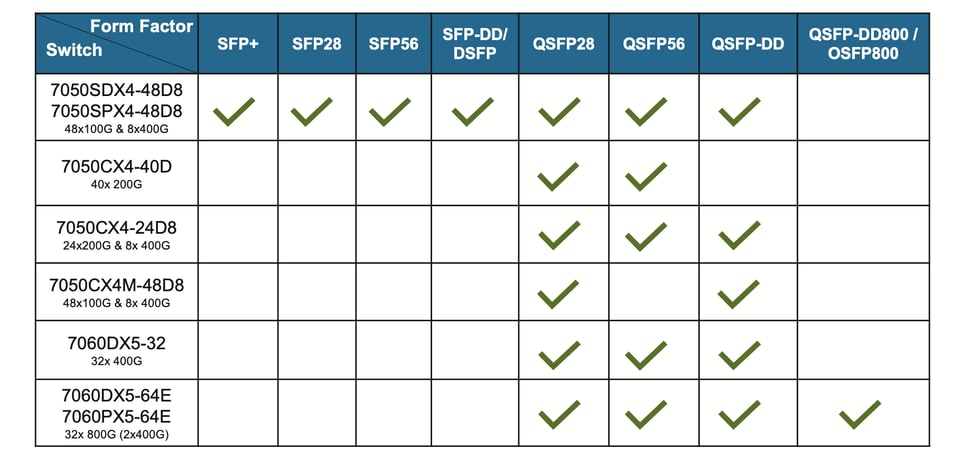 The latest generation of PCIe® Gen4 server performance NICs uses 50G PAM4 modulation technology as a building block to deliver high density, low cost, 50 and 100GbE network capacity to servers and up to 200G for high end applications. Future PCIe Gen5-based systems will double capacity again.
To harness server performance and provide long term investment protection, we are introducing the new 7050SX4 that allows four speeds (quad-speed) with 10G, 25G, 50G, or 100G in a familiar "SFP" form factor, which ensures backward compatibility to the very significant install base of 10G and 25G hosts based on NRZ modulation technology as well as the new 50G PAM4 based 100G and 200G hosts and retains the same rack level density of 48 ports. These systems also offer customers 400G uplink ports for spine connectivity at a range of speeds from 100G to 400G.
For customers looking to retain existing 100G data center fabrics and cleanly integrate them with new 400G deployments, the 7050CX4M is an ideal gateway solution. With 48 ports of 100G QSFP and 8 ports of 400G, the system is a seamless replacement for many existing 100G spines and offers high bandwidth connectivity to the new 400G spine layer.
In parallel the new 7050CX4 systems continue the optimization of the QSFP form factor for high performance racks again offering quad-speed support that allows for existing 40G and 100G systems to seamlessly transition to 50G and 200G environments with up to 40 ports in a single system. The QSFP56 based 200G ports offer the benefit of connecting to either 100G based on 4x25G NRZ or 2x50G PAM4 hosts. Customers again have a choice between native 200G or 400G uplink ports between the two systems.
Providing you with choices ensures that your decisions on networks are as varied as the teams on display at the FIFA 2022 World Cup.
By the way, for those wondering whether I chose England or the USA, my diplomatic answer was that whoever won, I would be happy.
References: