Beyond Scale to Flexible Cloud Networking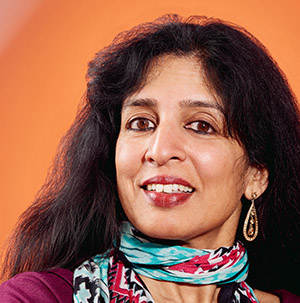 In the early 2000's a new generation of smartphones revolutionized the cell phone industry, eliminating the market for "flip phones," introducing new tools and completely redefining "phones" to universal internet devices. New companies rose and old ones adapted or failed. In 2015, a new generation of electric cars (Tesla being the most well-known), were introduced and drove the next wave of technology transitions, replacing gas-guzzling cars in many households. Consumers and traditional car companies worldwide are now embracing the new technology.
In the networking industry we are witnessing a similar trend. New technology adoption has been stagnant and slow for the past two decades. As east-west traffic and scale networks have grown exponentially, uncompromised access to users or workloads is the bigger challenge, giving way to a new class of cloud networking. Many proprietary access techniques and "policy" networking methods have been proposed over the years. To appreciate the need for policy change in cloud-class networks, let us review the legacy operation of today's switches or routers. Today, this network equipment selectively forwards based on information contained in the headers. This may be a simple deny, which drops the traffic, or a permit, enabling packet forwarding based on normal behavior. Selective forwarding can also change other parameters such as the packet header, or path-based forwarding, QoS settings, additional destination copy, or special treatments that flag or mark a packet. Typically this has been implemented by Ternary-Content–Addressable-Memory or TCAMs. TCAMs however are plagued by scale limitations, rigidity of resource allocation and the inability to perform multiple operations on a single packet. These limitations make cloud network, flow-based visibility and policy more cumbersome across thousands of events, workloads, workflows and work-streams. It's about time we took a long look at TCAMs and challenged the status quo.
Introducing Arista AlgoMatch™
Arista AlgoMatch is a 21st century innovation achieved by combining general-purpose memory technology with advanced software algorithms. At the heart of Arista AlgoMatch is an enhanced architecture for programming rules. It uses resources intelligently for greater scale with more counters for improved analysis. This deterministic packet-matching algorithm is highly efficient and designed for cloud workloads.
Unlike generic implementations, AlgoMatch relies on a highly efficient packet-matching algorithm that is better suited to take advantage of the flexibility and programmability using advanced software and silicon. It relies on using standard memory for higher flexibility, lower power and better costs than with dedicated TCAM. Arista AlgoMatch is able to provide significant performance and efficiency advantages as shown in the figure below: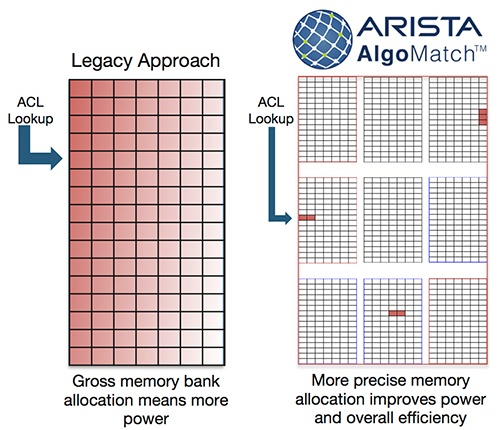 Advantages of AlgoMatch Networks
To appreciate Arista's AlgoMatch advantages, let's review a few of its use-cases.
IPv6 Migration: Most cloud networks are building dual stack IPv4 and IPv6, or dedicated IPv6-only infrastructure and expect to deliver a common service. TCAM-based solutions are especially restricted because of the size of the IPv6 addresses thereby reducing the scale. By placing control for IPv6 on an equal footing with IPv4, AlgoMatch eases the enforcement to IPv6 cloud networks.
Precision Based Classification: Traditional TCAMs are a rigid and costly technology, making scale and applying precise classification difficult to achieve together. As complex rules get expanded to multiple entries, TCAM resources are consumed exponentially. AlgoMatch offers 2-4X filtering improvements to enable real-time accounting, telemetry, and secure auditing.
Action-specific matching. TCAMs operate for one set of patterns but have limited flexibility for multiple and simultaneous actions such as protocol-specific matching, L4 filtering or deep packet matching at real-time speeds. They run into the limits necessary for multifaceted cloud networks.
Pioneering in the 2020 Era
Once again Arista is delivering innovative technology and unshackling networks from decades of packet classification and rigid networking. Arista AlgoMatch heralds next generation architectures in the datacenters, evolving to flexible and hybrid cloud models. It empowers cloud operators to enable dual stack implementations, flow analysis at Layer-4 or advanced filtering. AlgoMatch will be released in Arista's new and existing products beginning in 2017, including the new Arista 7160 series. We are in the midst of early trials now and you can see optional upgrades on more 7000 series platforms ahead. Welcome to an exciting era of software driven cloud networking! As always I welcome your thoughts at feedback@arista.com
References: