Arista Any Cloud Networking - Our Next Frontier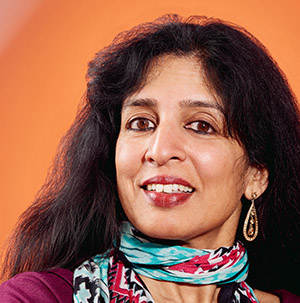 The modern cloud networking world is vastly different from traditional enterprise IT, and the gap is getting wider everyday. How does one truly scale across millions of machines and workloads globally? A decade ago, Arista pioneered the new software driven networking era and the same challenges now exist not only across the LAN intra-datacenters but also inter-datacenters via wide area networks (WANS). Although we have never promoted "SD-LAN" nor understood the "SD-WAN" hype, Arista has redefined software driven networking and pioneered the convergence between LANs and WANS.
Today Arista takes an important step in bridging the gap between the enterprise and the public cloud. We believe SD Any Cloud delivers a compelling hybrid cloud solution.
Enterprise premises to Hybrid Cloud Migration
In the past decade the classical hub and spoke model, based on north-south traffic across client servers, was prevalent between enterprise datacenters and branches. This created distinct centralized hubs (DC) and remote offices with workers (branch offices) implemented with dedicated routers in the branch. A familiar router architecture in the 1990-2000 era proliferated across retail, banking and managed services. In this era, upgrades were often cumbersome and suboptimal, while routers were managed one entity at a time. This hub-spoke model created "hair-pinning" of traffic between the central datacenter and spoke branches, causing internet WAN (often based on MPLS circuits) to be inefficient and expensive.
The advent of cloud native applications in the 2020 era (CRM, SAAS, storage or ERP apps) and the public cloud caused a re-architecture of traditional WANs based on popular Ethernet and IP protocols across cloud boundaries. Arista has been the thought leader and pioneer of this leaf-spine cloud network for intra-LAN datacenters, and now we can see a seamless extension of this concept to WAN and inter-datacenter connectivity using the same EOS-based principles our customers appreciate.
Arista Any Cloud Platform
The Arista Any Cloud offering is a holistic approach of cloud-based principles, marrying the on-premises enterprise to the public cloud for seamless networking mobility, as shown in the figure below. It is based on four open building blocks.
Replacing MPLS circuits with tunnel management with IPsec VPN for more cost

-

effective hybrid cloud access.
A multi-hypervisor based vEOS router product that is cloud-grade, leveraging our thousands of man-years of EOS innovation in which some workloads are accessed via the public cloud and some through on-premises access.
Extending telemetry and analytics

consistently

with Cloud Tracer (as part of the CloudVision suite) for deeper visibility between branch and public cloud networks.
Integration with cloud partners such as Amazon Web Services (AWS), Microsoft Azure and Azure Stack

,

specialty cloud providers Equinix Cloud Exchange, Google Cloud Platform (GCP) and Oracle Cloud.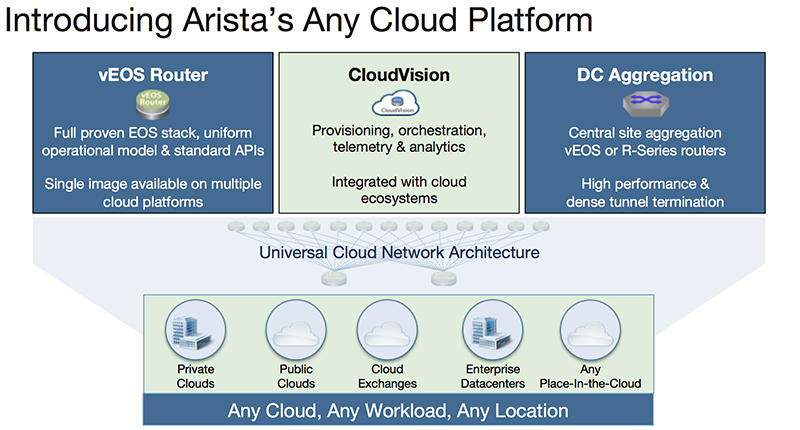 Hybrid Cloud Use Cases
Clearly the migration from legacy 'Places-In-the-Network' (PINs) to 'Places-In-the-Cloud' (PICs) PINS to PICS will be based on relevant use cases. Datacenters and branch silos can now be converged into a unified strategy, redefining datacenter to branch edge habits. For global or even national organizations, large companies choose the best public cloud platforms and private WAN links to replace expensive MPLS circuits. Additional augmentation such as security, L4-L7, Network Functions Virtualization (NFV) building blocks can be supplemented by deploying best of breed security and virtualization partners. The same Arista EOS cloud networking software stack brings seamless operations for inter-cloud meet-me points as well.
Silo PINS to Seamless PICS
At Arista we innovate for real use cases. The ability to transform legacy hub-spoke branches from an IT cost center to a business driver for hybrid clouds is a mandate for every CIO of Enterprises. The workloads of the 21st century are changing the faces of next generation branch upgrades and access across public and private clouds. In this new software driven paradigm, PINs are moving to PICs. Arista's platforms are game changers in cloud networking, not only suited to mega-scale titans, but now accessible to every remote premises, branch or enterprise. Across Any Cloud.
Welcome to Arista's Any Cloud era, powered by multiple cloud platforms AWS, Equinix, Google Cloud, Microsoft Azure, and Oracle Cloud Infrastructure for next generation cloud networking!
References:
Any Cloud Platform Executive Introduction Video
Webinar: Arista Any Cloud Platform - Hybrid Cloud Networking Anywhere