A New Cloud Network "Spline™" Is Born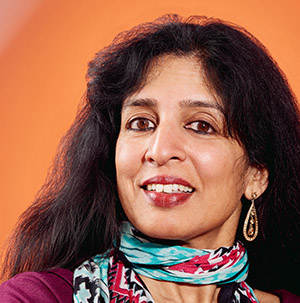 The dramatic shift to East-West traffic patterns within the data center is creating excitement, new customer requirements and many new three-letter acronyms such as SDN, HDN (read ASICS) or ACI. Add the term "Fabric", touted by many, and the confusion deepens with proprietary technology. Be it Q-Fabric, Fabric Controllers, ACI or Fabric Path, these are all this decade's proprietary and limiting paths.

Here at Arista, we believe in open, multi-vendor standards-based development. Ethernet scaling from 10 Gigabits to 40 Gigabits to 100 Gigabits and even Terabits in the future with well-defined standards and protocols for L2/L3 is the optimal approach for building scalable cloud networks. VXLAN is an exciting L2 over L3 protocol specification (co-authored by Arista and submitted to the IETF) that further enhances network virtualization in an open way that supports many millions of virtual and physical machines.

We have worked closely with our customers in deploying more than a million cloud networking ports and now I am pleased to introduce another industry first - 'Spline™ Networks' from Arista. This will allow further expansion without re-inventing the network with proprietary closed fabrics. It is important to recognize that the massive scale-out of dense cloud compute, storage, database and virtualization driven networks creates the need for an open, flexible and cost-efficient network design and topology. Arista has identified three and evolved types of Universal Cloud Networks. Leafs, Spines, and now a single tier Spline™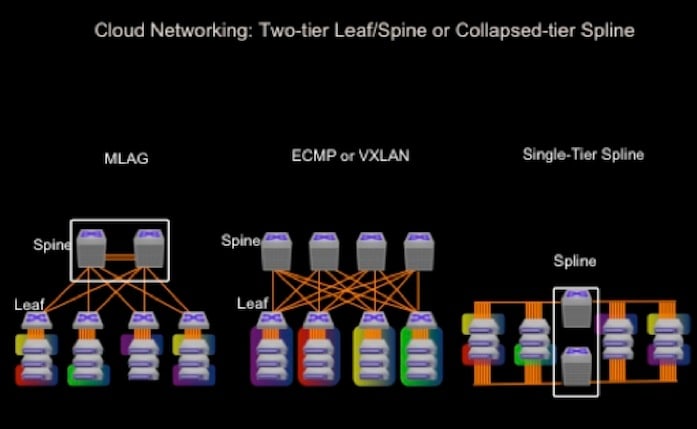 1. Leaf: In a single rack one can connect up to 128 servers to form a non-blocking rack of active compute connections. Arista's EOS offers rapid provisioning and orchestration via standards-based XMPP messaging such as CloudVision and ZTP/ZTR methods as well as broad range of operational tools. Examples of Arista products include the Arista 7150 and the new Arista 7050X with Network Tracer functions.

2. Spine: Rather than investing in proprietary vendor lock-in fabrics as a way to meet the need for new cloud networking requirements, Arista introduced the groundbreaking 7500E 30Tbps chassis for building the industry's largest leaf-spine networks. This was the first and only modular data center chassis with deep buffers for asymmetric traffic patterns, triple speed ports of dense 10/40/100GbE in a single chassis supporting 300K+ servers in n-way leaf-spines, all in a compact power and space footprint. As the spine layer bounds the number of hops in a typical scale out Arista fabric to no more than 3 (Leaf-Spine-Leaf), so too the total latency can be bounded for maximum throughput in demanding virtualized and cloud networks, whether for big data, NoSQL/NewSQL, or vm-to-vm east-west application traffic. Additional support for chassis visibility with Health Tracer and MapReduce Tracer for Apache Hadoop applications and LANZ for application level visibility are further examples of how the Arista approach contributes to Opex reduction and effective infrastructure programmability.

3. The New Spline™: By collapsing the leaf and spine into a single tier, the scale out of direct attached Ethernet hosts is now possible. A new collapsed tier for a variety of high performance and densely deployed applications such as: IP and Ethernet storage, next generation file systems, object storage, distributed compute, and virtualization and clouds managed with VMware, OpenStack and Microsoft orchestration are pushing the envelope towards a large single tier of cloud networking. The Spline™ network model - supporting thousands of servers is delivered for the first time via a combination of downstream 10G/10GBaseT and upstream 40GbE or 100GbE links – is possible for a range of single tier configurations. The Arista 7250X 2RU and 7300X modular chassis are fitting examples of the one-tier collapsed Spline™ network. These systems support up to 2000 10Gbe ports and 500+ 40Gbe ports in a single chassis, bringing unprecedented flexibility to automation, orchestration and applications and dramatic reductions in operational costs.
Open and Programmable Arista EOS with our Partners
At the heart of these network designs is Arista's crown jewel EOS, the industry's only programmable and open network operating system. Others talk about state while their architecture is message passing and IPC based. State cannot be added partially and must be inherently designed architecturally. Based on a single software image that brings extensibility at every level Arista EOS delivers a self healing resilient stateful database, open Linux programmability, advanced event actions (AEM), custom Python scripting and programming, open JSON application interfaces, and significant operational savings for Network Applications. Embraced by our eco-system of renowned partners Arista EOS creates harmony between best of breed applications and networking.
Arista 7000X Series Replaces Legacy Catalyst 6500s:
Arista's suite of leaf-spine or spline™ designs for middle and end of row storage and compute clusters delivers an open Universal Cloud Network. Building a universal cloud using n-way multi-pathing via MLAG (Multi-chassis Link Aggregation Groups) at L2 or ECMP (Equal-Cost Multi-Pathing) at L3 is a standards-based and scalable approach for uncompromised workloads. Together, they cover all of the important multi-path deployment scenarios in a practical manner without introducing any proprietary inventions. These approaches can scale from the smallest most practical deployment to the largest clouds in the world with 100s of thousands of servers and zettabytes of storage. The new 7000 X-series products support entry level to large-scale density, while also offering unique operational visibility of network telemetry functions.
As always, I welcome your views at feedback@arista.com.
References: